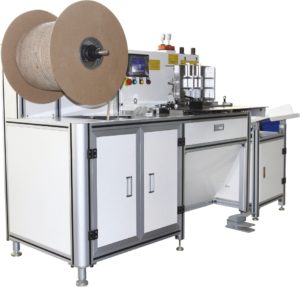 DWC520HS
PRICED BELOW $30,000 CDN. with one set of closing Bars, call for quote.
The DWC520 High Speed is the latest in Automatic Double Loop wire binding with speeds up 1500 books per hour, capable of a five skip binding setting . Settings are easily done with the intuitive touch screen containing the prestigious Siemens PLC. The 520 has the ability to close lengths up to 507 mm with a bound edge of up to 520 mm. The 520 also includes  a calendar hanger attachment to make calendar hook placement a breeze.
Easy setup with intuitive touch screen
Ease of operation
 Quick format change
WATCH AS THE OPERATOR IS ON TARGET TO COMFORTABLY CLOSE 1260 CALENDARS PER HOUR.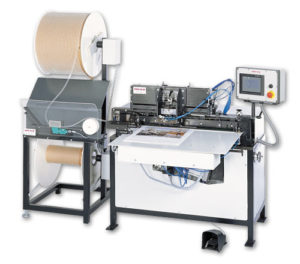 Autobind 700 – Professional Line
Semi-automatic binding machine
For RENZ RING WIRE® from spools for books, calendars and skip-binding.
By pressing the foot pedal the book is clamped and the binding table moves forward into the closing bars and the binding is closed.
The KAS (calendar hanger tool) is required for producing calendars. Straight wire pieces are formed into the hanger shape and are then automatically guided into the wire before closing. By this patented RENZ®-technology preparing and inserting the calendar hanger manually is a thing of the past.
The main control panel uses touch-screen technology. The screen clearly displays all current machine data, menus for adjustment and operation and – if necessary – error messages.