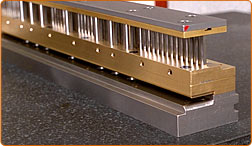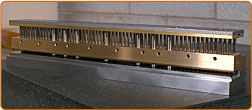 Rilecart Paper Punching Tools
Model 4/42
The Rilecart 4/42 tool has a thick layer of punch support material (hard bronze) with a lubrication strip which can be periodically oiled, for increased punch guide lifespan. Our tool comes as a one piece design which allows for 5/16 ring book hole punches.
Optional Feature(s)
Features
HARDENED TOOL STEEL BASE INSERTS
HARD BRONZE GUIDE MATERIAL
NUMBERED AND HARDENED PRECISION TOOL STEEL PUNCH PINS
RE-OIL ABLE PUNCH PIN LUBRICATION STRIP
RING BOOK HOLE PUNCHES
RETRACTABLE SLIDING TOP FOR QUICK PUNCH PIN REMOVAL.