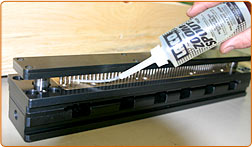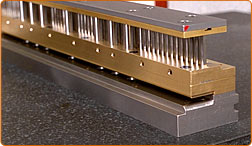 Rilecart Paper Punching Tools
Model 5/55 (Left)
Model 4/42 (Right)
The Rilecart 5/55 and 4/42 tools offers large heavy duty hardened tool steel guide posts. Quick access top lid allows easy punch removal for fast change over. This tool has a hard bronze guide insert and a lubrication strip which can be periodically oiled for increased punch guide lifespan. These tools are offered in 2 sizes for 360mm long sheets and for 550mm long sheets.
Features
HARDENED TOOL STEEL BASE INSERTS
HARD BRONZE GUIDE MATERIAL
NUMBERED AND HARDENED PRECISION TOOL STEEL PUNCH PINS
RE-OIL ABLE PUNCH PIN LUBRICATION STRIP
HARDENED TOOL STEEL GUIDE POSTS
RING BOOK HOLE PUNCHES.