Production InLine Systems
We have the right machine for you.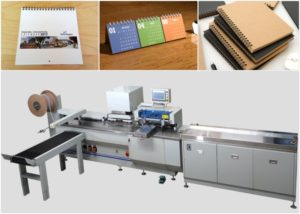 The Ningbo Creative PWB580S Inline Wire Binding System
The PWB580S is a true option for large, small and tent calendar production. With diameter sizing from 1/4″-3/4″ and a second feed station for pre-punched thick covers this versatile machine is also capable of producing large and small notebooks. This machine has a optional cover feed and calendar hanger delivery to again increase production.The PBW580S has an all steel welded frame built as strong as any machine in the field.
A truly versatile inline system.
Video Video with Cover Feeder Video Second insert Station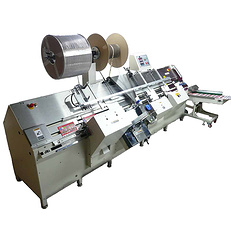 James Burn BB400 Speedbind Automatic Binder
The latest addition to the JBI line of Wire-O® automatic binding machine, the BB400 Speedbind Automatic Binder provides the ultimate productivity level in a minimum footprint. It remains an affordable investment and will bind a wide variety of applications including note pads, exercise books, diaries as well as desktop calendars. Add the optional in-line punch, which can do a wire punch pattern and calendar nail holes in one pass and you will truly have an automated in-line Wire-O® punch and bind solution.

Renz Inline 360
Fully automatic binding line with high speed punching and binding system
Inline 360 – fully automatic binding line with high speed punching and binding system, where book blocks are dropped on to the infeed (conveyor), punched and re collated and fed automatically into the binder. Allows for less product handling and full automation of punching and binding. The Inline is also capable of punching and binding calendar sets with either nail hole or calendar thumb cut.